Camberwell Grammar School is an independent, single sex, Anglican primary and secondary day school for boys, located in Canterbury, an eastern suburb of Melbourne, Victoria.
In the middle of 2022, the school's head of IT approached Vision One to model and execute a fully-integrated, turnkey audio visual solution for the recently refurbished Wilson and Philips Rooms. The primary brief challenged our team to develop a new-approach to thinking, focusing exclusively on improving the audio balance of the space while targetting specified zones for audio distribution.
We began our investigative phase of the project by conducting EASE Modelling on the designated deployment areas, resulting in the following outcome: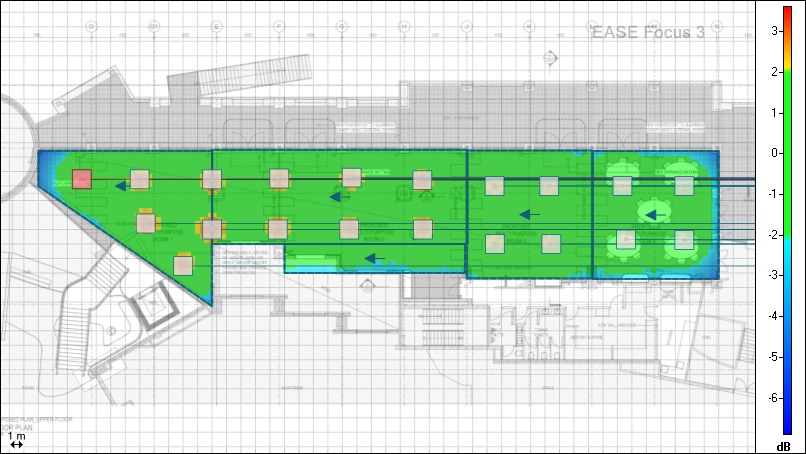 This research lead us to our flagship audio brand: Audac. After a visit to the Audac showroom in Preston, representatives of Camberwell Grammar were convinced that both Audac and Vision One were best-equipped to deliver on the school's vision.
Our audio system comprised of 20x Audac CALI424 4″ In-Ceiling Speakers; 4x each in both Philips Rooms and 12x for the extended Wilson area. The CALI424 is a 2-way ceiling speaker with a metal rear-dome which guarantees premium performance for demanding applications. To better-balance the audio and counter some of the acoustic-challenges of the encompassing brick wallls, 4x Audac CELO8S 8″ In-Ceiling Subwoofers were also installed. This subwoofer is fitted with a stiff and light aluminum membrane, minimising ceiling vibrations and resulting in energetic depths from above, becoming the next step in providing an impeccable musical atmosphere.
Powering the speakers and subwoofers, we installed an Audac CAP424 4-Channel 100v Power Amplifier and an Audac EPA104 4-Channel Power Amplifier.They are designed as no-nonsense amplifiers with only the necessary controls and connections which creates great simplicity in use and installation. The EPA104's use of Class-D technology ensures excellent efficiency as well as outstanding sound quality.
To control and manipulate all audio input feeds and output levels, an Audac M2 Digital Audio Matrix Mixer was installed. The M2 is a multi-media audio distribution system which offers an unseen flexibility and amount of possibilities for any audio distribution system.
Bridging both visual and audio mediums, we installed an RTI Video-over-IP Control System comprising of 2x KX7 7″ Touch Screen Wall Controllers, 6x VIP-UHD-TX 4K Video over IP Transmitters, 6x VIP-UHD-RX 4K Video over IP Receivers, 2x RM-4VIP-2 Rack-Mount Kits for VIP-UHD-TX/RX and 1x VIP-UHD-CTRL Video over IP Control Module. The RTI Video over IP (VIP) distribution platform enables distribution of 4K video over a 1GB network switch to virtually unlimited endpoints. The result is an exceptionally flexible and scalable system that be installed in minutes and controlled natively within the RTI control environment.
Our control system offered the following key functions:
INPUTS: HDMI Wall Plate 1, HDMI Wall Plate 2, HDMI Wall Plate 3, Vivi 1, Vivi 2 (relocated from behind displays to rack room – Right Room retains local Vivi IN), SDI to HDMI feed from Theatre
OUTPUTS: 2x Fixed TVs (Left/Middle Rooms), 1x Portable Trolley (Right Room), 3x Additional Portable Trolleys (positioned by nearby data points) – Receivers/decoders to live @ rear of portable TV displays.
AUDIO BREAKOUT: Local RCA OUT of each Transmitter into Audac M2
HDMI WALL PLATE EXTENSION: 3x Room HDMI Wall Plates (1x Brick Wall Left Room, 1x TV Left Room, 1x TV Middle Room), extended via existing CAT6, IN to Transmitter in Rack Room.
Existing/school-run SDI feed from Theatre to be converted via SDI -> HDMI Converter, patched to Transmitter in Rack. School to run 2x XLR (L/R) Audio Feeds from the Theatre to be used in conjunction with SDI -> HDMI feed.
MICROPHONE AUDIO: Existing Sennheiser Wireless Microphone Systems to connect to Audac M2 for programmed control.
AUDIO ZONING: 3x Zones of Ceiling Speakers (Left, Middle, Right). Zone 3 will only activate in "Combined Room Mode" – local TV OUTPUT to be used for isolated display. ZONE 1 and ZONE 2 will be usable in both a "local" and "combined" state.
Finally, a new Audac WP225/W Universal Wall Panel was installed. On the front side of the wall panel, there is a 3.5 mm jack stereo line input connection available together with a balanced XLR microphone input, both provided with their own knob which allows the signals to be mixed together.