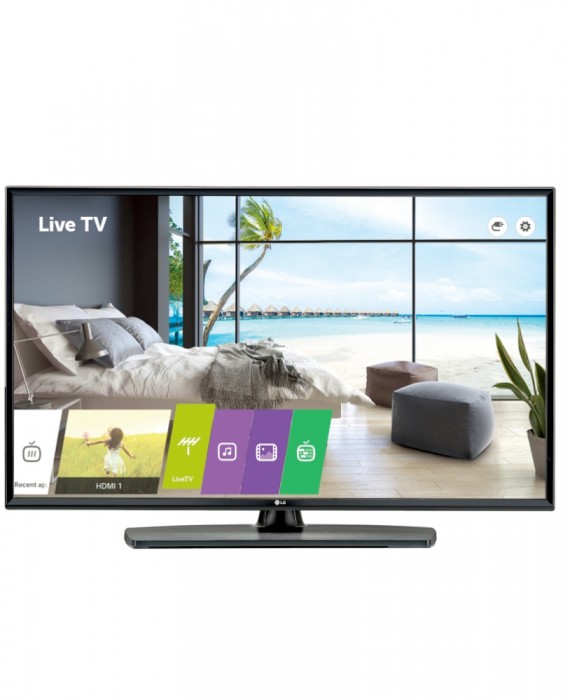 SKU:

UU665H

.
LG Commercial LED 4K 43″-65″ Pro Centric Smart TV
Description

LG Commercial LED 4K 43″-65″ Pro Centric Smart TV features an Ultra HD display, customisable apps, voice recognition and the interactive smart solution Pro:Centric SMART, all which will enhance guests in-room experience as well as hotel branding.

Features

– Pro:Centric Hotel Management Solution: Pro:Centric SMART is optimised for customising hospitality services for hotel branding and guest experience through an IP & RF infrastructure.
– Pro:Centric Direct Solution: Pro:Centric Direct is a hotel content management system that supports simple editing tools and provides various solutions such as IP-network-based remote management.
– Smart TV by LG webOS 4.0: The UU665H series comes with webOS 4.0, allowing guests to explore the latest LG Smart TV features, innovative technology and dynamic content delivery options.
– Smart Clock: This app-based clock provides current local time, world time and weather information in a visual display.
– LAN out with VLAN (Virtual LAN) ID: Make the most of the connectivity features which can help to overcome space constraints. The LAN out feature enables users to manage a virtual LAN and set VLAN IDs for external devices in the TV menu.
– New Quick Menu (2.0): LG's simple home menu solution provides editable welcome messages, date/time and other frequently used menus in the form of a menu bar templates.
– Voice Recognition: The new Voice Recognition feature enables guests to easily control the LG TV with their voice.
– SmartShare: SmartShare allows users to share their content. It also searches for the content they want in order to share it more easily and accurately, there-by simplifying the process of sharing between various devices.
– ScreenShare: Connect a smartphone or laptop PC to the Smart TV via a Wi-Fi connection.
– Bluetooth® Sound Sync: Bluetooth® Sound Sync enables users to listen to music on a mobile device through TV speakers via Bluetooth® connection.

Learn more here.