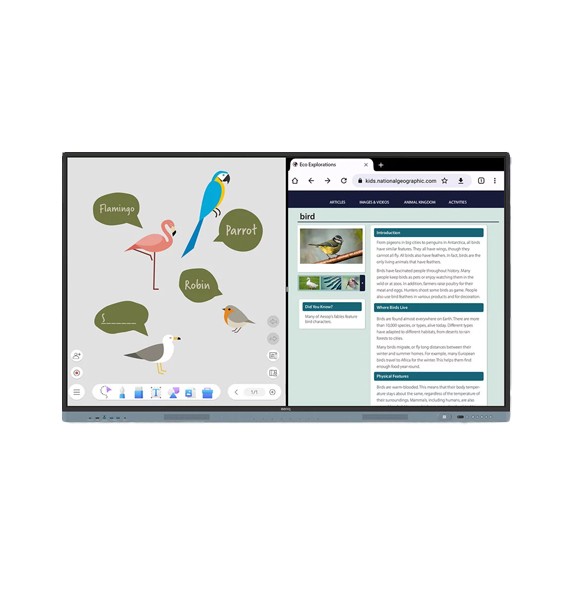 SKU:

RM04

.
EDLA BenQ RM04 Board Master
Description

Unleash your teaching potential with the best tools for today's classrooms.

Harness the power of BenQ hardware and Google services for education with the EDLA-certified BenQ Board Master RM04.

Easy app access—enhance your lessons with interactive educational apps from Google Play.
Google essentials—the RM04 comes with Google Core Services such as Google Drive and Meet.
Collaboration tools—fully utilise Google Docs, Sheets and Slides on a large touchscreen display.

Key Features:

Enhanced security—google's security features on your RM04 prevent data leaks, phishing, malware, and data loss.
Voice assistant—let your voice guide your lessons using Google Assistant via the RM04 remote control.
Text-to-speech—hear text as it is displayed or written on screen.
Multilingual translation—translate text in numerous languages for more context-rich lessons.
OCR—easily edit text from photos and scanned pages.
Maximise teaching efficiency—whiteboard while searching the web on the same screen. Activate the split-screen mode and have two apps open side by side for more dynamic lessons.
Front-facing ports—the multiple front ports include a full-functioned USB-C port that provides 65W of charging and allows you to extend your laptop screen and gain touchback controls.
Stream and record classes with AI—combine the BenQ Board with the DV01K smart 4K UHD camera for high-quality video streaming and recording.
All-around sound—the two 20-Watt front-facing speakers provide room-filling sound for any class. Together with the 8-microphone array, they ensure everyone can hear and be heard during calls or audiovisual lessons.
Smooth and intuitive writing—the BenQ Board Master allows multiple students to interact intuitively with the display at the same time for group work and other classroom activities.
More secure boards—the RM04 protects your school's data through secure login options, strict access controls, regular system updates, and app scanning via Google Play Protect.