In the middle of 2018, the creative technologies and design team at Vision One were contacted by Jason Jaap – Managing Director at Schmick Car Care Club. Jason – a motivated entrepreneur from Melbourne – was ready to expand his business portfolio and recruited the team at Vision One to design and deliver a floor projection solution that could accurately project life-size building floor plans on a 1:1 scale.
First popularised by Lifesize Plans in Sydney (and as seen on Shark Tank), the project first required consultation with Epson's technical experts, who calculated the ideal projector, throw distance, physical dimensions and blend overlap requirements for achieving a total image size of 26m wide x 18m high.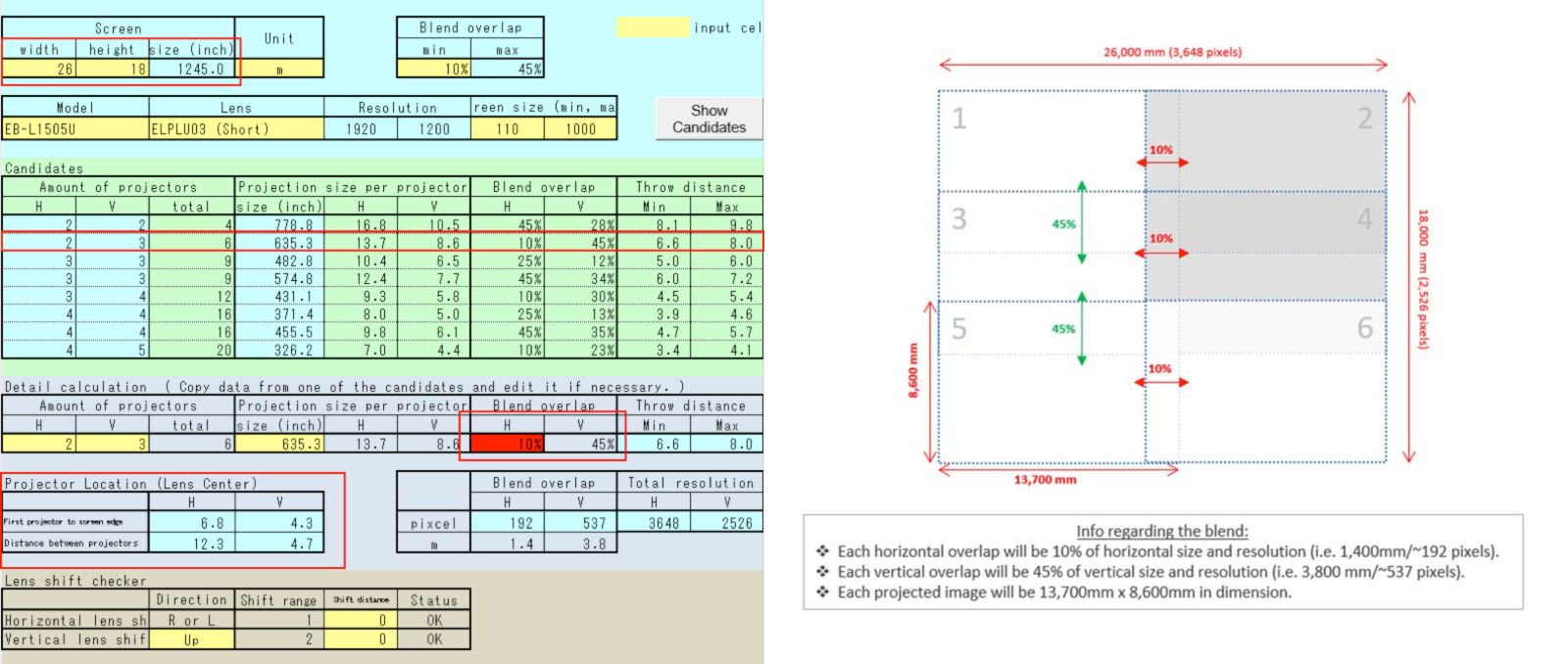 6x Epson EB-L1505UNL 12,000 ANSI Lumens Laser Projectors were installed in total, strategically mounted 12.3m and 4.7m apart. Promising long-life laser projection for large venues, the EB-L1505U is the world's first 12,000 lumens WUXGA LCD laser projector featuring 3LCD technology, 4K enhancement and high White and Colour Light Outputs.
We then ran CAT6 cabling over Clean Digital long-distance HDBaseT transmitters and receivers, carrying both HDMI and RS232 signals for display output and system control.
Each individual projector would project an image size of 13,700mm wide x 8,600mm high in dimension while a horizontal overlap of 10% (or 1,400mm/192 pixels) and a vertical overlap of 45% (or 3,800mm or 537 pixels) was required to achieve a smooth and seamless blend.
Once each projector was properly positioned, a meticulous process that included leveraging Epson's on-board individual Curve and Point Correction began.
Point correction was used to fine-tune the image shape using definitive points on a grid while curve projection was used to adjust and correct the shape of each image projecting against irregular, curved or spherical surfaces in the flooring.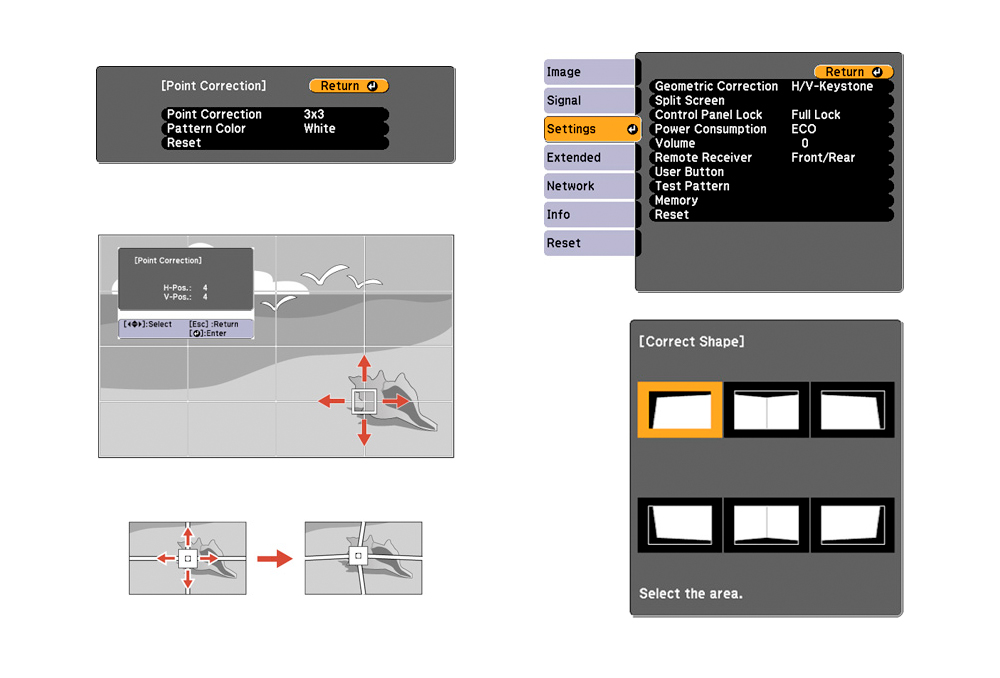 This sequence was performed on each of the six projectors, ensuring that an even and aligned grid could be achieved between each designated blend. This process was also combined with the projector's lens shift and zoom functions, allowing for more precise pixel-to-pixel adjustments.
After each projector was aligned and configured, we used 2x DataPath Fx4 Next Generation Display Wall Controllers to configure the blend, content distribution and overlap regions. The Datapath Fx4 is a multi-faceted stand alone display controller that supports a choice of inputs, high bandwidth loop-through as well as 4 genlocked outputs in either DisplayPort or HDMI.
The Fx4 works in tandem with the free Wall Designer software. Datapath's Wall Designer is the perfect solution for creating and managing an entire video projects. Wall Designer allows project builders to easily design complex display walls and projected images of all sizes and configurations.
We configured the Wall Designer software to the exact physical and digital specifications calculated by Epson and as executed by our expert installation technicians, with the final software product looking something like the below: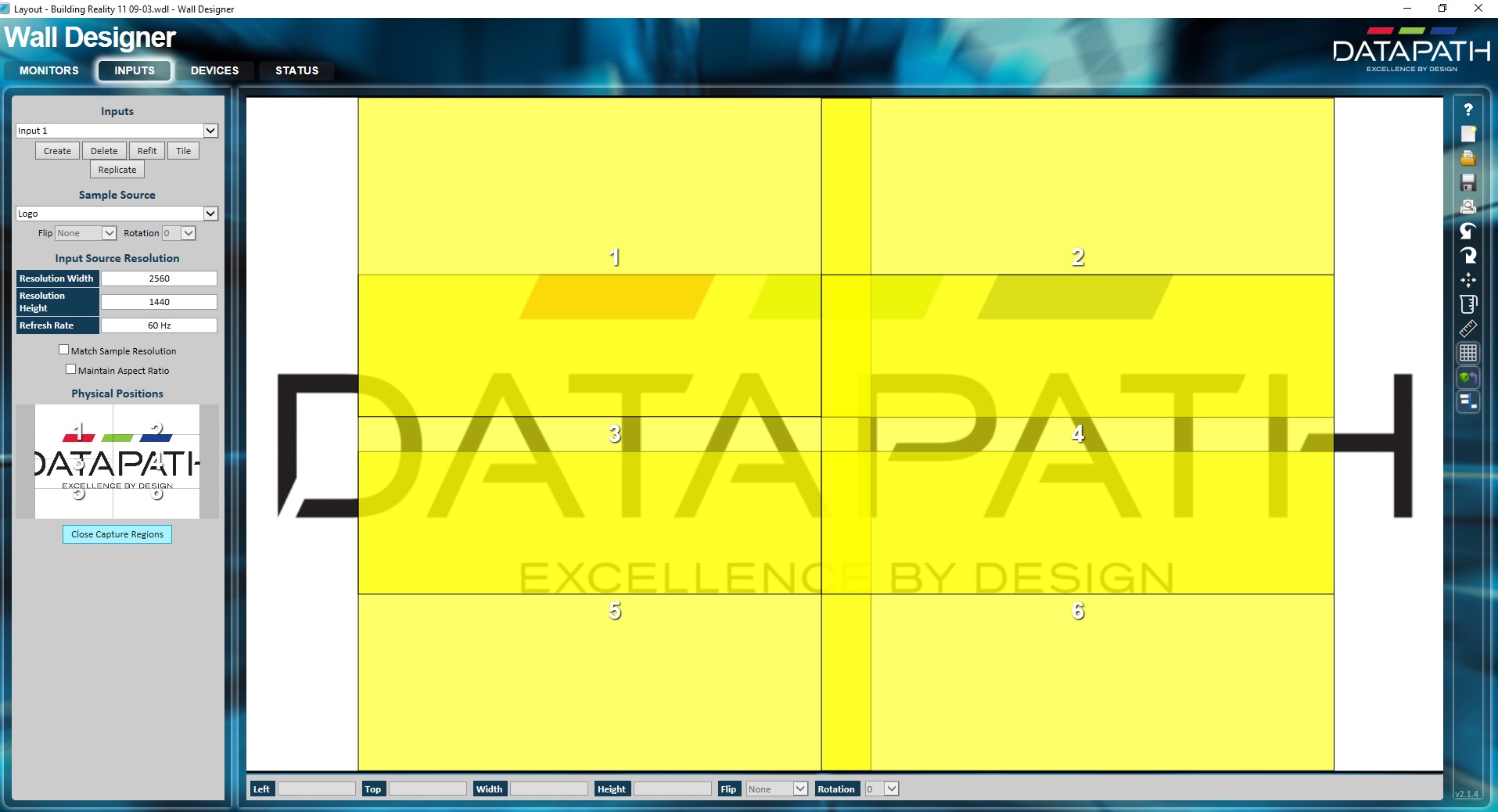 This configuration catered for a) each physical and digital projected image size; b) each overlap blend region and c) each digital capture region, narrowing on each pixel to ensure an accurate and scaled reproduction.
Via the use of an HP Pavilion All-In-One Z8G53AA Intel i7 27″ Windows 10 PC and Integrated Touch Screen, the staff at Building Reality use simple and familiar gesture controls to "scale" any PDF/floor plan document (ensuring a true 1:1 reproduction) while any adjustments made on the touch screen are reflected in real-time on the enormous floor projection surface.