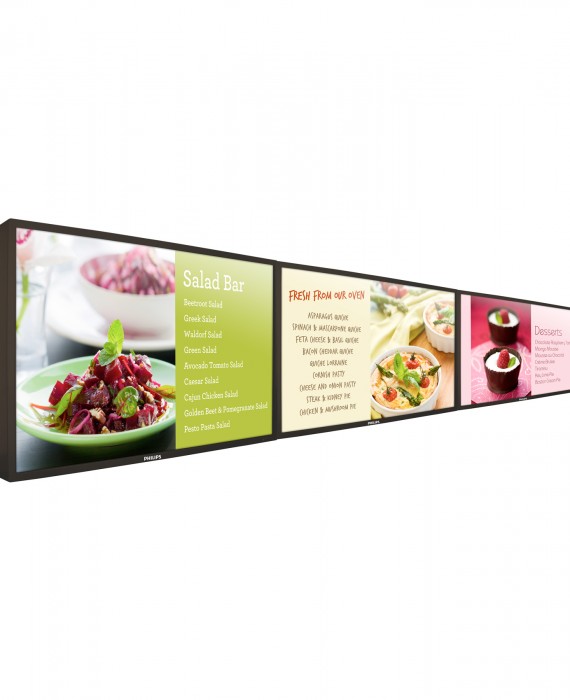 SKU:

MENU-BOARD-SIGNAGE

.
Digital Menu Boards for Shops, Fast Food & Restaurants
Description

Digital menu boards

The growing trend within the cafe, restaurant and hospitality industry is to replace traditional marketing methods with digital technology. Restaurateurs have discovered the power of digital marketing and with Vision One, our software and hardware solution transform your static displays into state of-the-art, eye-catching digital presentation content!

How will digital menu boards benefit me?

– Update time sensitive information quickly, which means you can instantly change the daily specials at the push of a keyboard button.
– Scheduling allows menus to be changed for the time of day, so that your breakfast menu will not be clogging up the options at lunch or dinner time.
– We create engaging content, encouraging customers to buy higher-end menu items by up selling with 'special meal deals' and exclusive marketing opportunities.
– Our software allows for the simple changing of any displayed price.
– Create compelling graphics so you can draw in new customers and reinforcing brand or store loyalty for existing customers.
– Replace lone, static messages with multiple dynamic advertisements so you can promote a wider range of menu items and increase sales.
– Save cost by reducing printing costs.

What software do you use?

Vision One are proud partners with both BrightSign Digital Signage Media Players and Bluflow Digital Signage Software, offering the best off both worlds with networked and cloud-based digital sigange.

Do you create the content also?

Of course! Our team of audio visual design and marketing experts can put together your perfect digital signage menu animated menu board, incorporating product pictures, text information, pricing and more.