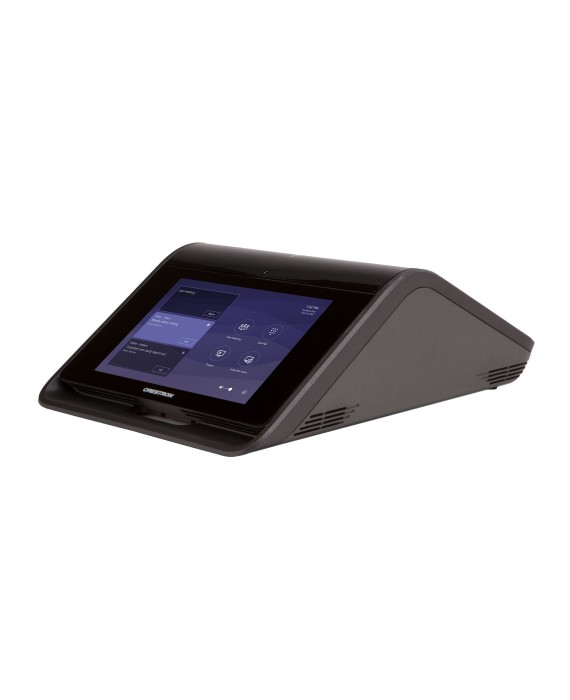 SKU:

UC-MX150-T

.
Crestron Flex UC-MX150-T Tabletop UC Video Conference System for Microsoft Teams® and Zoom® Software
Description

he UC-MX-150-T system provides a complete video conference room solution for use with the Microsoft Teams intelligent communications platform. It supports single or dual video displays, and features the Crestron Mercury® X Tabletop Console, UC Engine Assembly with UC‑ENGINE, and Huddly IQ™ camera.

Native Microsoft Teams® Software Experience
The UC-MX150-T system brings the full Microsoft Teams UC experience to any meeting space in an enterprise or SMB facility, whether implementing a cloud based Microsoft Teams deployment, on‑premises Skype® for Business software, or a hybrid of the two.

Bring Your Own Device (BYOD)
Conference room visitors can connect their laptop computer to the Crestron Flex system to use their own UC conference platform. The UC-MX150-T's built-in content ingest device automatically switches to the connected laptop's UC platform and returns to the native Microsoft Teams environment when disconnected.

Crestron Mercury® X Tabletop Console
The Crestron Mercury X Tabletop Console (CCS-UC-1-X) provides a superior conferencing and collaboration experience for meeting rooms, huddle spaces, and executive offices. The CCS-UC-1-X delivers a simple and consistent user experience through its large 7 in. HD color touch screen. Its integrated AEC-enabled USB speakerphone affords exceptional full-duplex wideband audio performance.

For more information, refer to the CCS‑UC‑1‑X product page.

UC Engine Assembly
All the capabilities of a complete Microsoft Teams video conferencing and content sharing solution are powered by the UC Engine. For ultimate performance, Crestron employs a powerful NUC Mini PC running Microsoft® software. The UC Engine Assembly (UC‑BRKT‑150‑ASSY) streamlines the installation of a Crestron UC system by assembling the UC‑ENGINE and HD‑CONV‑USB‑250 together on one convenient and ready‑to‑mount bracket.

The complete assembly can be mounted on a wall, or it can be attached to the rear of the display device. Attachment to the display is accomplished using two of the four bolts that also affix the display to a VESA® compliant display mount. The assembly bracket includes mounting holes on its left and right side edges, spaced at 100, 200, and 300 mm vertically, to allow for attachment to either side of the display mounting plate on the rear of the display device.

For more information, refer to the UC‑BRKT‑150‑ASSY product page.

Huddly IQ™ Camera
The included Huddly IQ camera features an ultra wide‑angle 150° diagonal field of view to capture an entire conference room in Full HD 1080p video resolution. High precision aspherical optics, 12 MP CMOS sensor, and advanced video processing ensure a clear video image free from light or noise artifacts. Genius Framing digital autozoom intelligently detects the people in the room and frames them for an optimal view. With Genius Framing, there's no need to control the camera manually or rely on stored presets.

Network Management and Security
Crestron Flex is an enterprise grade solution, engineered in partnership with Microsoft to integrate seamlessly into any Microsoft Teams® or Skype® for Business software deployment. Crestron Flex is ideally equipped for mass deployment throughout any sized corporate, university, medical, military, or government facility.

IoT cloud based provisioning enables complete network configuration in advance of hardware delivery, with touchless updates following installation via Windows® software update. Crestron Fusion® software or Crestron XiO Cloud management enables monitoring and logging of room and equipment usage, as well as centralized help desk support. Advanced security features ensure privacy, reliability, and compliance with your organization's IT policies.

Crestron XiO Cloud™ Provisioning and Management Service
The UC-MX150-T is compatible with the Crestron XiO Cloud™ service, which is an IoT (Internet of Things) based platform for remotely provisioning, monitoring, and managing Crestron devices across an enterprise or an entire client base. The service enables installers and IT managers to deploy and manage thousands of devices in the amount of time it previously took to manage just one. As part of the UC-MX150-T system, the Crestron XiO Cloud service allows for system alerts and network management and provisioning.network management and provisioning, system alerts, and the pairing of a Crestron Mercury device to the UC-MX150-T system's UC Engine. System updates are controlled by Windows Update. For more information, visit www.crestron.com/xiocloud.

Deployment Resources
View the Crestron Flex Pre-Deployment Checklist to help plan your Crestron Flex installation.