Epson's interactive projectors in schools are all about making learning more engaging. With a lot of experience producing interactive education projectors, it's no wonder that education institutions are abandoning interactive whiteboards, large format projectors and display panels in favour of Epson's interactive projectors.
Better value and more versatile, an interactive projector provides a fuss-free all-in-one solution that makes education a more collaborative and fun process than ever before.
So what makes Epson's interactive projectors for Melbourne and Australian schools, classrooms, boardrooms and meeting rooms so great?
They encourage collaboration.
Interactive projectors are all about encouraging collaboration. Take Epson's popular EB-695Wi projector; it uses two interactive pens, which allows a teacher and a student – or ten students – to write on the same screen at the same time. Responsive and easy to use, these pens also have a 'hover' function that accurately detects when they are not in contact with the projection surface. These interactive projectors encourage collaborative learning by placing the teacher and student at the front of the room in an inclusive and constructive environment. Whether you're connecting to the projector wirelessly or via hard cables, you'll be able to annotate, write and draw over any laptop and/or in-built document.
Smart apps & tablet integration.
Epson's ushering-in of a new era of interactive projectors goes beyond collaboration to achieving an advanced smart learning platform for schools. Using the Epson iProjection app for tablets and smartphones, a teacher can annotate the onscreen image from a mobile device, and so can students. Not only can you project content from smart devices, but the PC-free annotation whiteboard mode means that teachers don't even need to power up their computers. You can also download and install your own finger-touch-compatible apps to your PC or tablet device, using Epson's interactive projection technology to engage and foster a developing academic environment.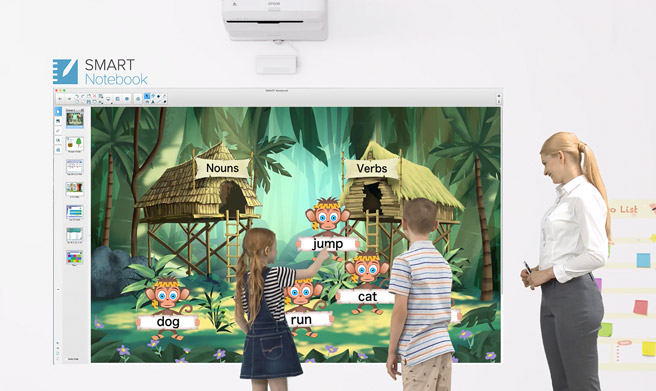 Show off movies and YouTube video clips in class.
Another string to the interactive projector's bow is its ability to annotate directly onto videos in class, which is an increasingly important part of the content mix in schools and colleges. Whether you're playing a video directly from YouTube or streaming from your local hard drive, Epson's interactive projectors make it easier to discuss video clips as part of any teaching curriculum.
Taking advantage of existing infrastructure.
For many institutions a big advantage of installing interactive projectors in Melbourne is that no other upgrade is needed; existing whiteboards or interactive whiteboards can stay because interactive projectors can project an image onto any surface. So exciting, yet simple is the technology that it's likely that, at first, many students will want to see exactly how their classroom's new interactive projector works.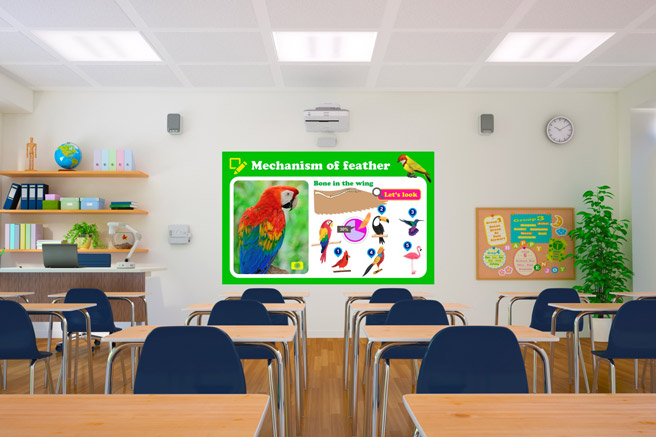 Super bright and detailed images.
Epson's expertise in projection, and the development of its own powerful 3LCD system, means that image quality from these products is second to none. Projecting a White and Colour Light Output of up to 4,200 ANSI lumens, images are crisp, vibrant and colourful – and, crucially, remain so even in bright daylight.
Boosting engagement.
A learning experience that's more involving and more fun is always going to increase students' motivation and produce better results. Hugely versatile interactive projectors help achieve this by broadening the possibilities for teachers' classroom methods. Teachers are limited only by their imagination and their commitment to taking advantage of the technology's features. Epson's interactive projectors are rapidly being adopted throughout education, and the reasons are as simple as the products' design and features. Is there any more exciting use for new technology than to help encourage collaboration and engagement in learning?
If you'd like to learn more about how Epson interactive projectors can benefit your Melbourne school or business, contact Vision One today on (03) 9467-3777.